All-New look for 2018!  Free Samples, Blog, Mistress Profiles, and Pic-of-Day are all Free features.  If you want to see a constant stream of new content, as well as our massive archive of pics, stories and videos, become a member.  Click HERE to see what your membership gives you. We are the #1 FemDom site in the world, as rated by Rabbit's Reviews.  Session with Kandy in Vancouver or on her travels.  March 26 BREAKING NEWS: New Blog update with details for our Dommes Gone Wild Party April 20!
January 2 Update!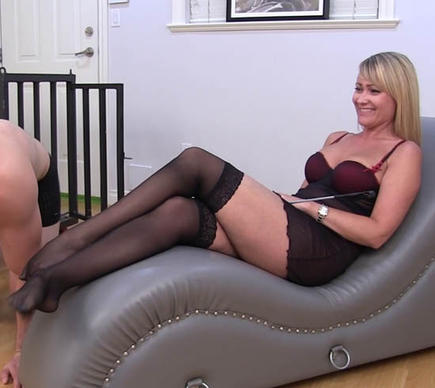 To help bring in the New Year, I thought I would share just a few of the wonderful messages we received this past year.
Mistress/Goddess/Superior Kandy, I was bored this evening so went back through some of your old blog posts and read your October 9 update. Just thought I'd email you to say that I appreciate your videos so much! Amazing photography, great chemistry, and a divine ass, Miss:). I love your ass so much as well as the farts that come out of it. One of my favorite videos is "Can't Escape My Farts". It's unique compared to so many of your other videos. I can't even imagine being caged and close, yet so far from worshipping and smelling your farts, Miss. And your words! My Goddess! Incredible flow of dirty talk, Miss:). I appreciate you and your art. I appreciate how much time and the enthusiasm you have! You rock!!
Thank you so much, and here's to a great 2017!
John
Reply: Thank you so much, John.  As you know, I love farting and seeing my slaves desperately inhaling them.  It gives me a great sense of satisfaction... and I'm glad you appreciate my dirty mouth, too.
Hi Kandy, Dave K here again.
It's been quite a while since I have written; I'm thinking it's been about a year or so.  Of course that doesn't mean I haven't been enjoying you and friends on Club Stiletto clips4sale and Twitter.  I always enjoy the Twitter posts and pics.  You and Jasmine seem to keep pretty busy and always keep men in their place, with their tongues right where they belong.
Well, as much as I love ass licking, that's not why I am writing.  I just wanted to wish you a happy, healthy and prosperous New Year.  I hope 2016 was good to you and that 2017 will be even better.
Keep up the good work.  I, along with many others find it quite stimulating.
Again, Happy New Year
Dave
Reply: Nice to hear from you again, Dave.  I think 2017 is going to be our best year ever, so be a good boy and check back often.
Dear Mistress Kandy,
I am at a bit of a loss as to how to approach this subject, but to begin - when I first I discovered that I craved a dominate woman I was in my teens.  I had that experience and one since then.  Then I discovered you.
Your casual feminine beauty is so well expressed as you sit on your stool having snacks and wine while instructing your tethered slave attached to the stool by collar and balls how to properly use his tongue to please your asshole and perhaps pussy.  Is there any way I could be used by you in such a manner?  I think I would give up everything just to be your slave.
Frank
Reply: Then mission accomplished. Nothing makes me happier than knowing a man is so desperate to please me that he would give up everything.  Let's exchange some messages and see where this might lead.  What would I do with you?  Instruct you to do the dirty work around the house, or maybe get you on hormones and turn you into a limp-wristed sissy, forced to suck cocks for me on a daily basis?  Decisions, decisions!
Dear Mistress Kandy, i love your site and would like to see more videos featuring Domina Ruby and Princess Mia in the near future. Is that possible?  Thank You.
slave trystan
Reply: You can count on it, slave.  I suspect you're a slave who appreciates a beautiful ass so you'll be happy to learn that we're shooting on a regular basis with both of these gorgeous ladies!
Hello Mistress Kandy, I saw a very good review on FemDom Media Blog and joined the site and so far I really love it.  I really like how you force slaves to lick your ass and how you fart in their faces and say such nasty things to them about using them as number 1 and 2 toilet.  I must admit it gets me so aroused and I imagine a life as a toilet slave to you and your friends.
poohpee
Reply: Thanks, poohpee.  Toilet servitude is one of the biggest signs of a man's will to submit.  If he will eat your shit, he will probably do anything... which is as it should be.
Dear Mistress Kandy,
i am writing to you with the Subject heading titled members because i intend to be a member but i would like to post this question.  i have noticed that there are several videos not listed for streaming as a member but is available for purchase at the C4S main store. am i missing something?  if i were to become a member would i be able to get access to the videos? examples would be clips of Countess Isabella (Lunch is Served, Bad, Good Dog and others....)
javier
Reply: Hi javier.  Yes, everything on C4S is available on the membership site.  The newer clips are added anywhere from a week to two months later than the ones on C4S.  When we switched servers, some clips didn't get added to the site, so if there's something you see on C4S that's missing from the membership site, let me know and I'll add it.  If it's an older series, I will often have them re-edited as one long-play clip.  The bottom line is that you get hundreds of hours of video content for one low cost, compared to the price you'd pay to buy those clips one at a time on our clip store.