January 31, 2019 - We have just updated the Free Samples Page including new photos and a full length clip featuring Miss Raevyn!  Free Samples, Blog, Mistress Profiles, and Pic-of-Day are all Free features.  If you want to see a constant stream of new content, as well as our massive archive of pics, stories and videos, become a member, our 6 month special is only $69.95 or 38 cents a day.  Click HERE to see what your membership includes. We are the #1 FemDom site in the world, as rated by Rabbit's Reviews. 
Dommes Gone Wild A celebration of Femdom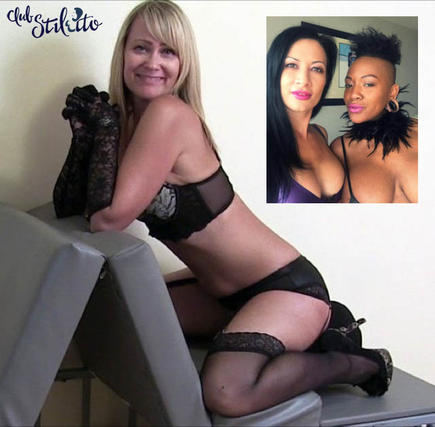 Dommes Gone Wild A celebration of Femdom
Over the years, Club Stiletto has had many special party nights, and next month is shaping up to be a classic that I'm already excited about!  In addition to Myself, that amazing duo – Koi Erotica and Miss Jasmine – will serve up a tantalizing adventure at the Club Stiletto Studio, where friendly social pleasantries and hardcore kinky Femdom fetishes are sure to intersect.  It's going to be a night to remember for all those in attendance and we're also going to have a couple of mystery Dommes there! The party will take place April 20 and is limited exclusively to those who have sessioned before with any of Us.  So, if you're going to be in the Greater Vancouver area and you're interested in the opportunity of a lifetime, you'd better book one of Us for a personal session within the next few weeks, in order to earn Our favour and get a chance to participate!
What might you expect?  Just be yourself or be a gimp.  Enjoy a drink while you massage Our feet.  Strip naked and get bound in one of Our fetish rooms.  You could be feminized and ordered to dance for Us.  A medical exam might be necessary.  You could even be imprisoned in Our new 300 square foot cell, where providing sexual favours is your only way out.  A lot depends on your own fantasies, of course, which is why We want previous clients at this event.  Naturally, space is limited, so if you have a desire to experience something like this, I suggest you make contact ASAP.
Other things you should note: Our own areas of interest include but are not limited to persuaded bi (as we must call it now), strapon, CFNM, bondage, golden showers, sissy transformations, role-play, and imprisonment.  Limits will be respected.  Masks will be provided.  Filming is optional and will be scheduled in advance.  Further info can be found HERE.
I have a busy shoot schedule lined up and we're shooting with a new Domme today, so watch for the clips and pics!  I hope you're enjoying the new look and feel of Club Stiletto.  If you see anything that isn't working quite right, or doesn't look the way you think it should, do let Me know.  The weather here is dreadful right now but I'm hoping for sunnier, warmer spring days to come.