All-New look for 2018!  Free Samples, Blog, Mistress Profiles, and Pic-of-Day are all Free features.  If you want to see a constant stream of new content, as well as our massive archive of pics, stories and videos, become a member.  Click HERE to see what your membership gives you. We are the #1 FemDom site in the world, as rated by Rabbit's Reviews.  Session with Kandy in Vancouver or on her travels.  March 26 BREAKING NEWS: New Blog update with details for our Dommes Gone Wild Party April 20!
November 13 Update!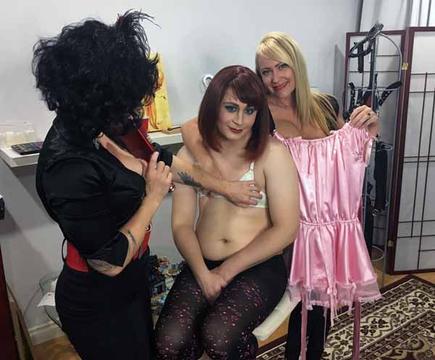 I'm going to level with you. The reality is that doing shoots is usually not as hot as you might expect.  I'm sure more than one bubble would be burst if guys could see what's actually required in order to shoot some of the scenes we do, lol.  Hours of work can go into the preparation – getting the scenes right, doing retakes, and the clean-up afterwards.  It all makes for a very long day and you're just glad to get it finished.  Few shoots are more difficult than our sissy shoots though, and that's the reason I don't do them very often.  Sissies are called sissies for a reason, it would appear.  Many of them sit at home fantasizing about being forced into slavery as a cocksucking slut, but when push comes to shove, 75% of them are no-shows to the shoot. And because many of them have personal inner demons about being a sub sissy, when you do get a good one, they often fall off the face of the earth shortly thereafter.  When coordinating a sissy shoot now, I make sure I have at least three firmly committed to show up, because rest assured, two will be no-shows and the worst case scenario is that they'll all let me down.  I'm then left sitting there with a makeup artist and a couple of studs looking for head, and we are 100% screwed.  It's ironic because the sissies were the ones begging to get fucked a week earlier!  So, this month I decided to venture into sissyland again, and that meant writing to a list of subs who have performed for me before, as well as searching the web for some local cocksuckers. 
After corresponding with about 20 people over the past two weeks, studs and sissies alike, I thought I had my roster in place.  Winter (my makeup artist), the camera man, two studs, three sissies, and yours truly.  What was the final outcome, you're wondering?  One of the three sissies arrived – early even – and we ended up having a great shoot!  And because the weather outside sucked, it even turned into a bit of a party.  Sure, one of the guys blew a load early, but in this business some guys get such stage fright they can't even get it up.  Well, cum is cum and our freshly made up slut was more than happy to lick up all that hot wet sperm.  I'll be editing this content soon and will have the first clip up within the next week, so watch for it!  I had so much fun – making my sissy suck cock, worship my feet, and lick my ass before I sat on her face and paddled her ass until it was a mess – that I've decided to do it all over again this Wednesday!  The same sissy, nikki, will be back for more and I have a few others who have 'guaranteed' they will be here, too... and I'm actually looking forward to it.  If there are any kinky sissy things you'd like to see, now's your chance to drop me a line and let me know... and if you're a sissy who would like to participate, PLEASE, think about it carefully so you aren't one of the people who give sissies a bad name.