We now update Daily and you can now also view Free Trailers for our newest Site Clips by clicking HERE!  NOTE: If you are having trouble paying through our site processor please contact us for alternate payment options.  6 month site access (non-recurring) is only $69.95 (or $29.95 for a month with $19.95 recurring).  We're now in our 28th year.  Free Samples, Blog, Mistress Profiles, and Pic-of-Day are all Free features.  If you want to see a constant stream of new content, as well as our massive archive of pics, stories and videos, become a member, we have one month, 3 month and 6 month options.  Click HERE to see what your membership includes. We are the #1 FemDom site in the world, as rated by Rabbit's Reviews.  NOTE: You can now buy individual clips with bitcoin if you don't want to become a member.
Password's not working?  It's been several years since passwords issued do not work.  In other words if you join and the words don't work there's 100% chance you are not entering them correctly.  Username and password are both case sensitive.  WE is not the same as wE, for example.  Easiest is to copy your words and paste them while insuring there are no spaces before or after either word.  If you continue to enter the words incorrectly you will be blocked as the system thinks someone is trying to hack us.  If blocked you will have to write and we will get back to you as quickly as possible but not immediately so entering the words right to start with is a good idea.  Thank you for joining and we really want you to not only enjoy the site but have instant access once you subscribe.  If you want to see trailers of all our clips see our Clip Studio HERE. Also be sure to FOLLOW us on Twitter!
Hazel, Goddess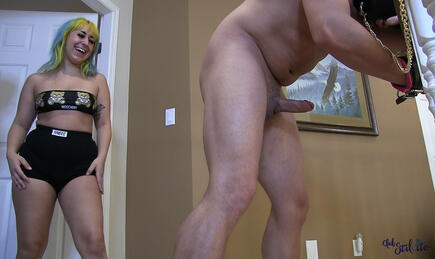 This dynamic young Mistress is new to Club Stiletto as of 2023.  Watch for lots of new content from her and be sure to learn more about her by clicking HERE.