All-New look for 2018!  Free Samples, Blog, Mistress Profiles, and Pic-of-Day are all Free features.  If you want to see a constant stream of new content, as well as our massive archive of pics, stories and videos, become a member.  Click HERE to see what your membership gives you. We are the #1 FemDom site in the world, as rated by Rabbit's Reviews.  Session with Kandy in Vancouver or on her travels.  March 26 BREAKING NEWS: New Blog update with details for our Dommes Gone Wild Party April 20!
May 31 Update!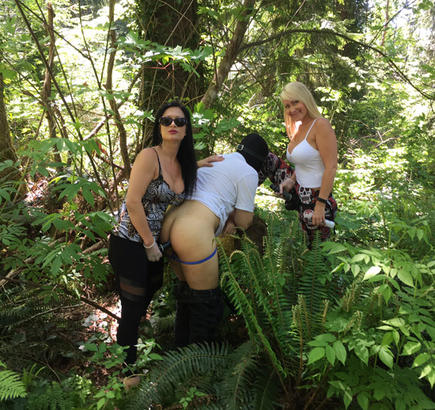 As you can imagine, this beautiful weather has had me outdoors every single day.  I've been enjoying pony rides around the property, editing and answering emails on the deck. Today, however, the weather took a turn for the worse and since I promised more updates, I thought this would be an ideal time.  As for that summer weather, it's sure to return.  I always enjoy filming in the woods near the house or  just sipping on a cold beverage while the slaves pull my weeds. I hate weeds! I gave the latest guy a tiny fork and spoon and that bitch will be out there all summer, lol! I find that I come up with the kinkiest ideas this way.
Do you remember that I had a session recently with Miss Jasmine? Well, as usual, we went a little off-script. Her slave appeared to be expecting a simple forced-bi scene. Boring! How about a little kidnap and spit roast in the great outdoors instead?  Well that's just what we did. First, we had to see what we were working with. Jasmine had sessioned with this slave before and said he was a good bitch. Damn, I swear he had the smallest cock I have ever tortured. We fucked with his 'third ball' for a while and I couldn't even bring myself to call it a cock. He literally had three balls so  I couldn't help but humiliate him.  OMG, what a loser! No wonder he likes to suck cock and get fucked. This loser could never please a real woman. Jasmine made him suck my cock to start, while she fucked his tight little cunt. He was a total bitch and while he lacked experience, he made up for it with enthusiasm. He sucked my cock for a while until Jasmine pulled out and rammed her cock down his throat. He protested  but we completely ignored him. After all, this is what he wanted, right?
We made sure he understood the dynamics of a good cocksucker because we had a stud lined up for him to suck once we returned home. We decided to have some fun and blindfold the bitch. Then we had him follow us outdoors where a van waited. We drove to a forest where we made him walk completely blind for about ten minutes, while we slapped and whipped him. FOREST GIMP. That was his new name! "Run, Forest, run" I yelled. How do I come up with this shit? Lol!
After making him walk for a while we came upon a deserted area. On his knees and with his mouth fully lubed up with spit, he sucked our cocks which we had lubed up with jizz lube.  We love jizz lube because it totally looks and tastes like the real thing. Oh how I love the outdoors! Lol! Along the way, we grabbed some dandelions and blew the seeds all over slave boy's cummy face. What a mess! That'll teach him; I bet it tasted awful.  
Then after a hike back to the house, we found our stud sitting on the back deck with a beer in one hand and his cock in the other.  The sweaty blindfolded, limp dick bitch, despite being exhausted, got onto his knees and serviced that cock like no one's business!  Soon the stud blew a massive load onto the slut's face and down his throat as well.  We removed his mask and told him to get the fuck out… and he's probably been beating off three times a day thinking about it ever since.
After all that, Jasmine and I were hot and sweaty, and although many slaves would love to have licked our armpits, we needed to shower.  We love soaping up our tits and rubbing them together until we're squeaky clean.  If you like the sounds of that, I'm still planning my travel schedule and am currently available in Vancouver for real time sessions.  Maybe you want to visit the forest, too!!
Luv,
Kandy